¡Día De Los Muertos!
Hoy celebramos Día De Los Muertos.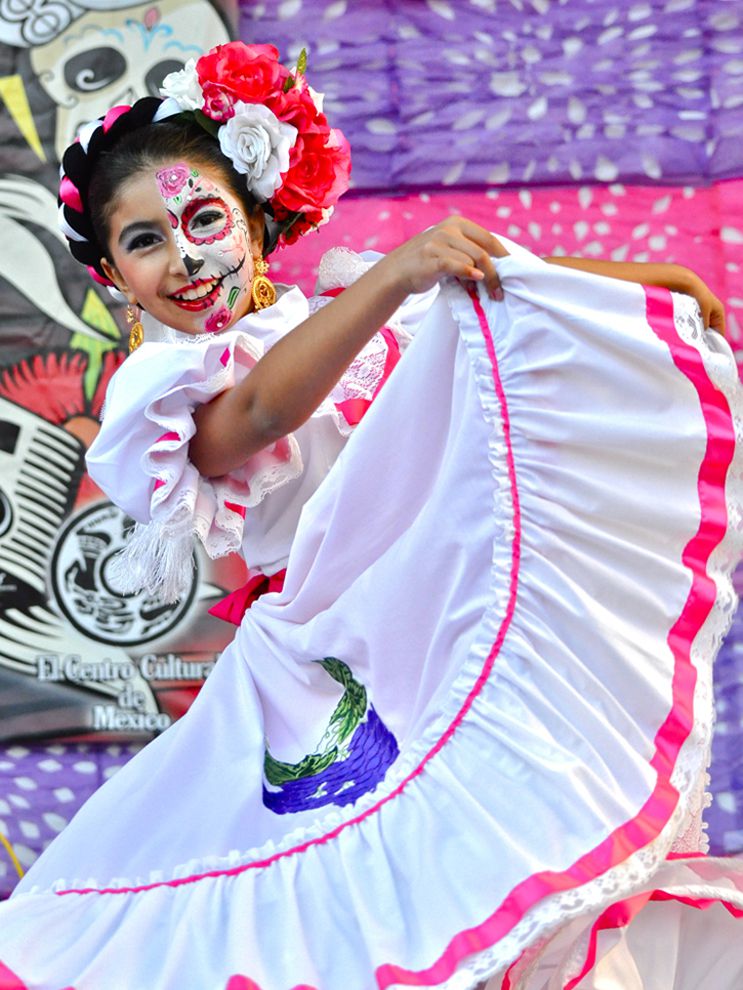 Día De Los Muertos or Day of the Dead is not just on November 1st.  It is a three-day festival – October 31 – November 2 – that is celebrated throughout Latin America.  Here in the U.S., places that have large Latino populations, such as Los Angeles, California, and Phoenix, Arizona celebrate with incredible picturesque decorations like papel picado (estampo), costumbres, dulces y mucho mas.
Día De Los Muertos is a huge fiesta – a national holiday – national, as in no school today, chicos!
Remember, though, Día De Los Muertos is not Halloween.  Even though trick-or-treating has become more common on Día De Los Muertos, Halloween  is a Northern European tradition.  Instead, Day of the Dead is a blend of Aztec and Catholic beliefs. And yet, even ancient Egyptians once believed that "the spirits of the dead returned every autumn to visit the world of the living.  [Ancient Egyptians welcomed] these spirits with food and lights" — George Ancona.  This tradition spread to ancient Rome, too and when Christianity was born, the tradition of remembering the dead was adopted.
Recuerda – Remember
Despite the sweetness of the calaveras de dulce (sugar skulls), this holiday is actually bittersweet, a day to remember loved ones who have passed on to the next world.  This video encapsulates both the sweetness of the celebration and the sadness that comes when we all must part:
 ¡Preparando! – get ready!
Todo lo gente estan preparando – it is time to get ready!
"Bakers are baking the traditional pan de muertos…Candy makers are making sugar skulls.  Children are cutting out cardboard skeletons.  Artisans are stamping out tissue-paper decorations called estampas.  Farmers are harvesting cempasúchil, marigolds" — George Ancona
The idea is that love is eternal – amor eterno – that even death cannot destroy love.
In every home, children will make a miniature altar, which invites angelitos or spirits of children who have passed, to come back and visit for the night.
The altar has offerings of baskets of nuts, hot cocoa, sugar skulls (yes, decorated with their own names), incense, flowers, fruits and toys.  Lastly, they put one candle, and light it, to guide the spirits home.  The candle must burn all night.
All Saints Day
The morning of November 1 finds children dipping pan de muertos into steaming cups of cocoa.  They have atole, which is a warm drink made from ground corn cooked in water.  And to complete the breakfast, they have chicken broth with large tortillas called tlalludas.
After breakfast they kick things into high gear, cleaning the house and yard and preparing the food for 3:00 p.m. sharp, when their extended family will arrive.  Dinner will certainly have tamales de mole.  Mole – pronounced "moh-lay" – is a sauce that has chocolate, chiles and spices.  Chicken, corn tortillas y mucho mas!  A crucifix will center the table, lit by a lit bowl of lamp oil.  Surrounding this will by pan de muertos, fruits, flowers, cups of chocolate and atole.  But every table is different and will feature foods that the relatives who have passed enjoyed in life.  A candle is lit for each relative who has passed away.
The adults also prepare an offering of flowers, and make arches from sugarcane to adorn their larger altars.  The finishing touch are photographs of their relatives who have died.
Todo lo gente – Everyone
Fireworks fill the sky this night, and the church bells will ring for 24 hours straight, rung by young men who take turns.  All the why, todo lo gente feast – children first, then the adults.
Family visit late into the night and throughout the next day.  Every guest will bring pumpkin candies, flowers and candles for every altar, then fill their baskets with food from the altar, moving on to the next relatives house.
November 2 – All Souls Day
On All Souls Day, everyone will go to church, which has also been decorated for this day with candles, flowers and food.
This is also the day that families go to the cemetery and decorate the graves and tombs of their relatives with fresh flowers.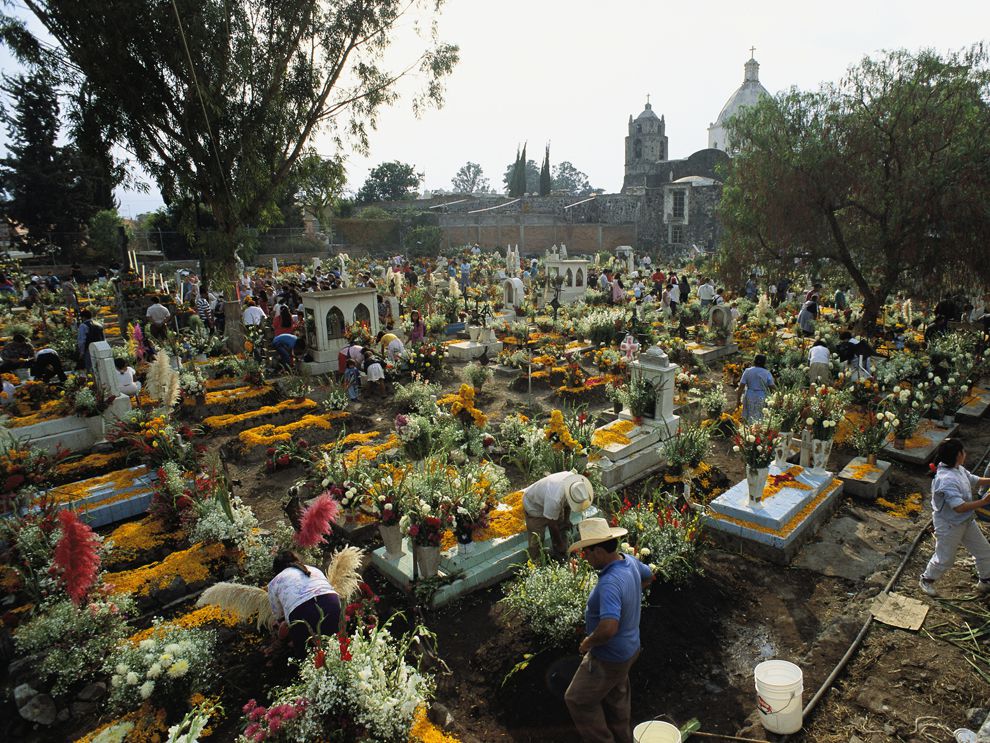 For those of you keeping track at home, by 3:00 p.m. today the bells will stop ringing.  Right at 3:00 p.m., "a burst of fireworks erupts, signaling the departure of the spirits" — George Ancona
Everyone stays at the cemetery, though, lighting candles at dusk and a hush follows, as people remember loved ones.
Read on!
In addition to the images and videos above, please read on with these amazing titles:
Funny Bones: Posada and His Dead of the Dead Calaveras by Duncan Tonatiuh
Check this out!  An Educator's Guide to Funny Bones: Posada and His Day of the Dead Calaveras
This photodocumentary follows Pablo and his family as they prepare to honor the memory of Pablo's grandmother.Ancona's "photographs catch the affirmation of life that fills the Mexican festival arising from both Aztec and Christian customs honoring the dead….Joyful." — Chicago Tribune
Rosita y Conchita by 
And of course, we have movies for you, too!