If you're participating in either the Reading by Design or Build a Better World summer reading themes, you've probably been ordering, reading, or rereading books that tie into your theme. There are many ways to develop these themes, but including books about building/construction are great ways to extend your theme:
(image taken from Sleeping Bear Press site)
If you're familiar with Sleeping Bear Press's informational picture books, you know that the main text is usually written in rhyme, accompanied with sidebars that include further information. "A Book of Bridges" is not only an instructive overview of bridges, but it also includes a reminder that bridges bring people and communities together.
(image taken from Jonathan Bean site)
"Building Our House" will undoubtedly be the highlight of any preschool or school age read aloud session (one-on-one time spent with the book will reveal hidden gems scattered throughout the illustrations, such as Mom's pregnancy progression). A very industrious family designs and builds its own house, as narrated by one of the children in the family.
(image taken from Christy Hale site)
Want a way to incorporate types of architecture into your read alouds or displays for your younger patrons? "Dreaming Up: A Celebration of Building" is not only a beginning introduction to architecture, but it's also a glorious tribute to the importance of children's play.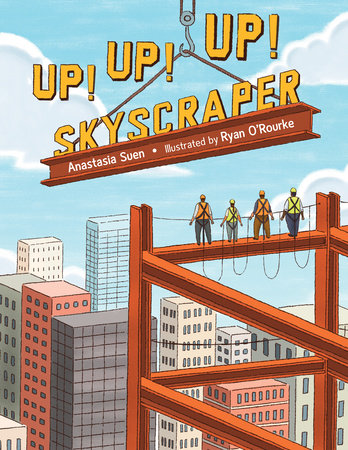 (image taken from Penguin Random House site)
Anastasia Suen's "Raise the Roof" (published by Viking, 2003) is also a charming tale about a family building their own home, so I was excited to learn that she had a new construction-themed picture book out just in time for summer reading! "Up! Up! Up! Skyscraper" is a first-rate look at the hard work involved in building a skyscraper. Informational sidebars give further information about the construction process.
Do you have any favorite titles about building or construction? Let us know in the comments!