Boost Your Summer READing!
Summer READing programs are in full swing, but there's no rest for the fearless folks of Youth Services! Here to keep those fires burning and your marshmallows roasting is a smorgasbord of HOT news, and cool free stuff. Dive in, enjoy and catch the wave!
All Things Comics!
New Ms. Marvel Author Samira Ahmed Discusses Her Plans for Kamala Khan — the first female South Asian writer to tackle the Muslim superhero comic book character Kamala Khan. In an exclusive interview with Entertainment Weekly, the author discussed her plans for the character. Ahmed says that Ms. Marvel "looms large in my familial culture." In fact, in her group chat with her South Asian cousins, they often use the acronym WWMMD: What would Ms. Marvel do? Ms. Marvel will be Ahmed's first comic, and it should be hitting stands in September.
A Lord of the Rings anime movie is in the works: The Lord of the Rings: The War of the Rohirrim.
Jameela Jamil has joined the cast of the upcoming Disney+ She-Hulk series as Titania, a Marvel supervillain with limitless strength. The series will star Tatiana Maslany as Jennifer Walters, a young lawyer who becomes She-Hulk after receiving a blood transfusion from her cousin Bruce Banner, a man with gamma-radiation-infected blood.
This Week's Digital ARC — Dinosaur Explorers Volume 9
Written by Redcode & Illustrated by Albbie and Air Team — Pub Date: September 7th, 2021 — Click Here To Get Your Digital ARC
TEACHERS GUIDES to new comics — Click here to find the latest teachers guides, as well as posters and other giveaways such as Free Comic Book Day issues for your comic conventions!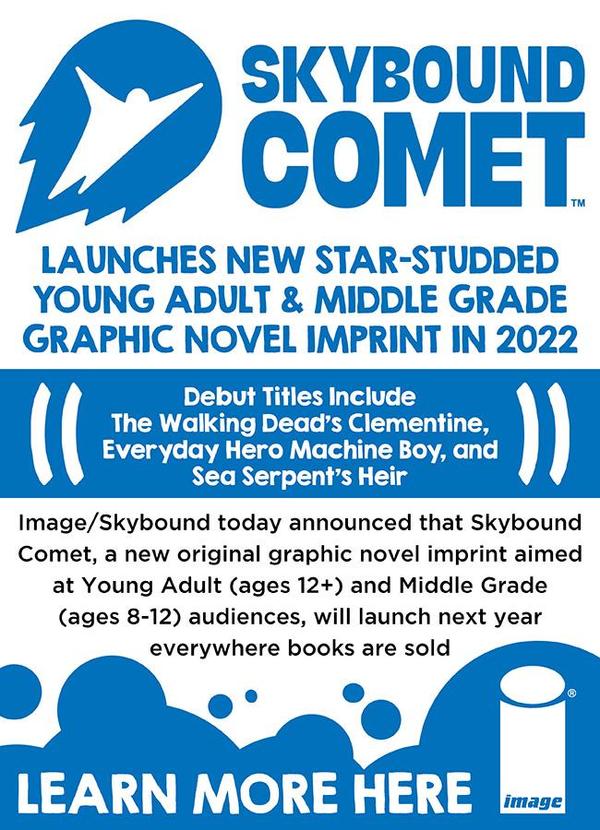 Art Projects!
At the Movies!
Check out the new trailer for Clifford the Big Red Dog. coming to theaters September 17 of this year. For every like and share the trailer receives, the film will donate $1 to Best Friends Animal Society, up to $20,000.
West Side Story's Rachel Zegler has been cast as Snow White in Disney's upcoming remake of the fairy tale. Production is set to begin on the new film sometime in 2022.
Because You are You-th!
Alexandra Huynh has been announced as Amanda Gorman's California successor for youth poet laureate. Learn more about the newest youth poet laureate!
Jason Reynolds Wins Carnegie Medal for Story Collection Look Both Ways — Poet and author Jason Reynolds has won the Carnegie medal, the UK's most prestigious prize for children's books, for his short story collection Look Both Ways.
Social Justice Children's Bookstore Opened in West Palm Beach — A new social justice-driven children's bookstore is opening at Rosemary Square in West Palm Beach. It's called Rohi's Readery, and the bookstore will focus on stories featuring children and families from diverse backgrounds. Pranoo Kumar, the founder of the store, explained that the bookstore is actually named in honor of her grandmother: "Rohi is actually short for Rohini. Rohini in India, my grandmother, was a steadfast advocate for educational rights for children especially during the caste system and colonized India."
Improvised Library Brings Joy Of Books To Kids Living In Gang Territory — NPR highlighted the HotSpot Library, a library that has been built around shipping containers in Cape Town, South Africa. The library was founded in 2017 in response to worrying statistics for literacy rates in South Africa, and sits in a neighborhood where gang violence is prevalent. It's become a refuge for kids and adults, and organizers are hoping to open a second location soon.
The Horn Book Magazine announced in a news release the winners of the 2021 Boston Globe–Horn Book Awards
Register now for our October 5th Winter 2022 Adult + YA Preview featuring authors Xochitl Gonzalez and Dana Schwartz.
Get A First Look At John Cho's Debut Middle Grade Novel Troublemaker — the book will release in March 2022. But right now, you can get an exclusive first peek at the book's cover and first chapter at Entertainment Weekly.
Sad news–YA author Cindy Anstey has passed away after a long fight against cancer. She is the author of many YA Regency romances, including Love, Lies, and Spies.
LeVar Burton Wants to Help You Become a Better Storyteller — MasterClass has announced that LeVar Burton will be teaching a class on the power of storytelling.
Just for YA!
Justina Ireland and Tessa Gratton Co-Writing YA Fantasy Duology Chaos & Flame — Ruta Rimas at Razorbill has acquired the rights to a new YA fantasy duology from Justina Ireland (Dread Nation) and Tessa Gratton (The Queens of Innis Lear). The books will follow two scions from two rival houses who get swept up in the dangerous game the prince regent is playing, and the only way they will be able to survive is by trusting each other. Publication is set for spring 2023.
Penguin Teen announced Chloe and the Kaishao Boys by Mae Coyiuto.
| | |
| --- | --- |
| | Congratulations to author Tracey Baptiste! One of my favorite campfire reads and middle-grade series, The Jumbies was recently chosen as the Global Read Aloud 2021 Middle Grade Pick!If you aren't familiar with the Global Read Aloud project you can find out all about it here. The big kick-off will be on October 4th and will continue for six weeks. The official hashtags to follow are #GRA21 and #GRAJumbies. |
Victoria Schwab's New YA Novel is Crimson Peak Meets The Secret Garden — her latest YA novel Gallant comes out March 2022, and Entertainment Weekly has an exclusive look at the upcoming book, which is being described as a cross between Crimson Peak and The Secret Garden. Victoria Schwab's new YA novel has a cover reveal!
Kid Stuff!
38 Silly Summer Jokes for Kids

Peppa the Popstar has done it again! Peppa released her brand-new music single, "Peppa's Adventures"! This hit track is sure to have the whole family moving and grooving all weekend long. Download and stream it!
Summer Activities For The Very Hungry Caterpillar — After reading the book, try out one of these at-home The Very Hungry Caterpillar activities for toddlers and older kids alike!
Must See Streaming!
Beauty and the Beast Prequel Series Coming to Disney Plus — The Disney Plus Beauty and the Beast prequel has officially been ordered to series. The prequel is a live-action musical series that features 2017's Beauty and the Beast stars Luke Evans and Josh Gad reprising the roles of Gaston and LeFou. Additionally, it has been announced that newcomer Briana Middleton is joining the show as Tilly, LeFou's stepsister. The series has been given an eight-episode order. Production will begin in spring 2022.
Somewhere Only We Know by Maurene Goo is getting a series adaptation – set in the world of K-pop, Goo's book is getting a feature film adaptation on Netflix. Lana Cho (Four Weddings and a Funeral) has signed on to adapt the story, which follows a K-pop star and a tabloid photographer as they explore the streets of Hong Kong together, finding adventure and, of course, romance.
This is My America by Kim Johnson has been optioned for a TV adaptation at HBO Max!
Share With Parents!
31 Creative Ways Families Can Spend Time Together in July
STEM/STEAM!
💻 Code at Home Activity: Learning how to code doesn't have to be difficult. With our simple, fun PDFs, you can code at the click of a button.
​
Things That Make Me Go Squee! — mostly stuff for grown ups
The winners of the Indigenous Voices Awards have been announced.
The Navajo students at Tse'Bii'Nidzisgai Elementary School and Monument Valley High School have written a book filled with oral histories and drawings that capture what life is like in Monument Valley. For the book, entitled Hózhó, A Walk in Beauty, the students in Monument Valley interviewed their grandparents and other relatives about what life used to be like on the Navajo Nation. All proceeds go towards scholarships for students looking to attend college or other forms of higher education.
Harry Melling Stars Opposite Christian Bale in Netflix Film About Young Edgar Allan Poe — The film is based on Louis Bayard's novel The Pale Blue Eyes, which imagines a young Poe who solves crimes. Melling will play the young Edgar Allan Poe alongside Christian Bale, who plays a detective tasked with solving a murder at West Point.
After years of development, the television adaptation of Anne Rice's Interview with the Vampire is finally debuting on AMC and AMC+ in 2022.
Netflix released a Geralt teaser for the new season of The Witcher.
Good Omens is getting a second season
Bryan Fuller will be adapting a remake of Stephen King's novel Christine and I am HERE FOR IT!
Liam Neeson is starring in an adaptation of The Black Eyed Blonde, a Philip Marlowe novel written by Benjamin Black.
Apple's Foundation Gets A Release Date and New Trailer — AppleTV+ has announced that its upcoming adaption of Isaac Asimov's Foundation will premiere on September 24, and they've released a new trailer for the series too. The show will star Chernobyl's Jared Harris as Hari Seldon, a mathematician who can predict the future using the law of mass action and statistical mechanics. He foresees the collapse of the galactic empire, and so he gathers a following of those determined to preserve humanity's "legacy."
A new Exorcist sequel is in the works.
And these are funny:
Groan-worthy joke of the week:
Why is Peter Pan always flying? Because he Neverlands.