Summer READing Gazette
Issue 1 v.1
Summer READing is nigh! Here's some great entertainment, book, and programming news and ideas to tantalize and inspire! If not just totally distract you from stress! ; ))
All Things Comics
Graphic Novel About Freddie Mercury Coming This Fall — Queen frontman Freddie Mercury is getting a graphic novel this fall. The rock legend will be the subject of Freddie Mercury: Lover of Life, Singer of Songs, a graphic novel written by comic book author Tres Dean. Publisher Z2 Comics says in a press release posted on Queen's official website: "For the first time in comics format, Freddie Mercury: Lover of Life, Singer of Songs will be a journey through Freddie's life; from his childhood in Zanzibar and India, through his formative years in England, to become the rock star known and loved by millions around the globe. The story is told in his own words, with each chapter giving a glimpse into the many facets of his life."
Because you're Youth Services peeps!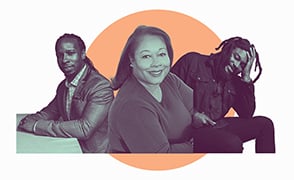 TorCon 2021 announced the schedule of events.
Alexandra Huynh Named National Youth Poet Laureate — Eighteen-year-old poet Alexandra Huynh was named the new National Youth Poet Laureate this past Thursday. Since the announcement last week, Hyunh says she's been "swimming in a pool of gratitude" and that she hopes her writing can inspire others to look to poetry to "process emotions and create change in communities." The full National Youth Poet Laureate ceremony, including a reading of all of the finalists' poems, can be viewed here.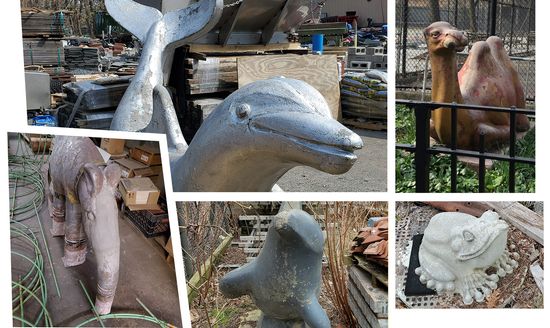 New York City: The City's Battered, Beloved Playground Animals Are Retiring to Queens How the Parks Department ended up with this peculiar sculptural zoo.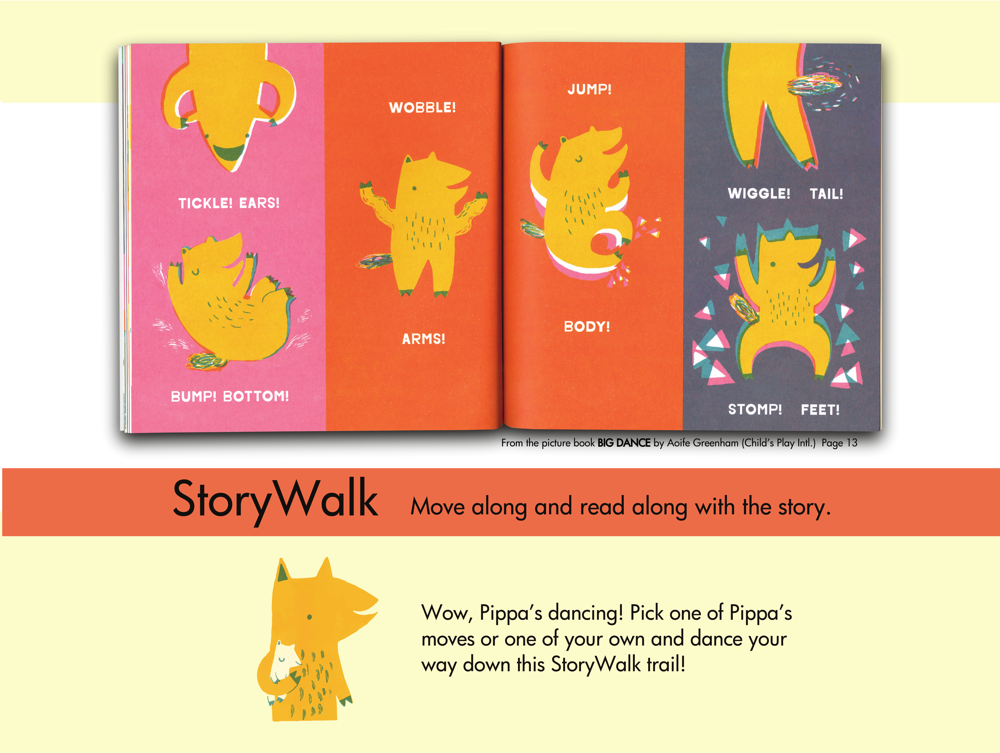 Given the challenges of supporting literacy in another summer of social distancing, Curious City StoryWalks has teamed up with publisher Child's Play to offer a FREE StoryWalk for your community! Register below to get the download link…
Curious City and Child's Play thanks partners Banacom Sign, Let's Move in Libraries and Barking Dog Exhibits for helping make this possible.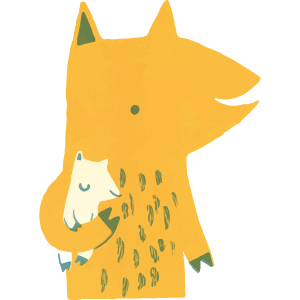 Featured Picture Book: BIG DANCE by Aoife Greenham (Child's Play)
Size: 24″ W x 18″ L
Number of Signs: 16
File Type: 16 individual high resolution PDF's
No Customization: While Curious City StoryWalks normally works with communities to customize our other StoryWalks, this free StoryWalk cannot be customized with your logos or resized.
Copyright/Permission: The publisher Child's Play has waived the need for individual permission. You are NOT violating copyright by using this signage.
Display Permission: Can be displayed for five years.
Have a peek at the free StoryWalk design…
For ideas for displaying a StoryWalk in your community visit Let's Move in Libraries and Barking Dog Exhibits.
REGISTER FOR THE FREE STORYWALK SIGN FILES
Register below to receive a StoryWalk signage download link that you can share with your preferred printer. No, we do not share your information. We simply like to verify that you are a literacy-loving bonafide human…
If your don't receive the link, contact StoryWalk guru Nicole Burchard at Banacom Sign.
Bookish News
Entertainment News
Hulu Releases Love, Victor Season 2 Trailer and Key Art — Love, Victor is coming back for a second season on June 11, and Hulu has released a new trailer and key art from the show. In a press release, Hulu said that the second season would find "a newly out of the closet Victor entering his junior year at Creekwood High. But being out brings with it new challenges, as Victor faces a family struggling with his revelation, a heartbroken ex-girlfriend in Mia, and the difficulties of being an openly gay star athlete — all while navigating the excitement of his relationship with Benji." The series is inspired by and set in the same world as Becky Albertalli's Simon vs the Homo Sapiens Agenda and subsequent novels from the "Simonverse." Here's the trailer for Love, Victor on Hulu.
Timothée Chalamet to Play Young Willy Wonka in Upcoming Movie Musical — Timothée Chalamet will play a young Willy Wonka in the Warner Bros. prequel film Wonka, which follows the early life of the world's most famous chocolatier. The plot details of the upcoming film are being kept under wraps, but we do know it is a musical, and that characters from the original Charlie and the Chocolate Factory like Charlie Bucket will not be included.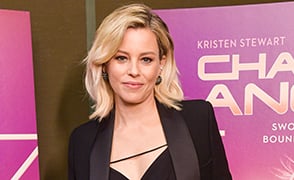 Elizabeth Banks is set to play a major supporting role and direct a Peacock TV drama series based on the best-selling YA fantasy novel Red Queen by Victoria Aveyard. The novel imagines a near-future United States where democracy has been replaced by a monarchy ruled by those with super powers. Elizabeth Banks will also executive produce the project alongside Max Handelman through Brownstone Productions.
For Your Parents
Just for YA!
Netflix Releases Trailer, Images, and Voice Cast for New Anime Series Trese — Netflix has released a trailer, images, and the voice cast for their upcoming new anime series. The show is based upon Budjette Tan and KaJO Baldisimo's graphic novel Trese. Set in a version of Manila where creatures of Philippine folklore walk amongst humans, Trese follows Alexandra Trese who finds herself up against a criminal underworld filled with evil supernatural beings. The series comes to Netflix on June 11 and stars Shay Mitchell as Alexandra Trese. Other cast members include Darren Criss, Jon Jon Briones, Nicole Scherzinger, Manny Jacinto, Lou Diamond Phillips, Eric Bauza, Dante Basco, Steve Blum, carlos Alazraqui, Matthew Yang King, Griffin Puatu, and Rodney To.
STEM/STEAM!
Dad joke of the week: 
Q: What kind of noise does a witch's vehicle make?
A: Brrrroooom, brrroooom!
And this is funny: