The Eisner Awards are one of the biggest comics awards. The winners were announced last week at San Diego Comic-Con and there were several books that will hold special interest to your tween patrons!!
Over the Garden Wall is based on the Emmy-Award winning miniseries about brothers Wirt and Greg, trying to find their way home in weird circumstances.
2016 Eisner Award Winner for Best Publication for Kids (ages 9-12).
Bandette is the world's greatest thief! Also, she is a French teenager. This delightful book (the third volume will be out in the fall) is joyful, fun, and the colors are excellent.
2016 Eisner Award Winner for Best Digital/Webcomic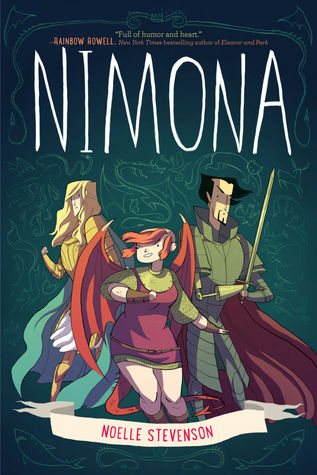 Nimona is Noelle Stevenson's masterful webcomic, collected and published by Harper. Nimona is a young shapeshifter very interested in villainy, so she decides to apprentice to Lord Ballister Blackheart, the local villain. Their plan is just to expose the the fact that Sir Ambrosius Goldenloin and  Institution of Law Enforcement and Heroics aren't exactly heroes. But then things go awry.
2016 Eisner Award for Best Graphic Album—Reprint
You can find the full list of Eisner winners here!
*
Ally Watkins (@aswatki1) is a library consultant at the Mississippi Library Commission.