The coronation  of ALSC's latest Newbery winner is so new that as of this writing the official Newbery page has not been updated to include this year's winner, Last Stop on Market Street. Still, even with the latest winner fresh in our minds, at my library we have started looking ahead to the potentials for the 2017 Award. The reason for our future-flung eyes? It's time to start Newbery Visionaries again!
Newbery Visionaries is our mock-Newbery award book group. In previous years, it has run from September-January. It's a registered, after-school program that meets once a month and requires participants to use their best critical thinking and evaluation skills on 16 potential Newbery Award winners. As in previous years, we got a huge amount of registrants for our program by sending out an eblast to parents highlighting the various Common Core-required skills this book group would build in their tweens. And we promised pizza!
We made a few changes to the program as well. This year, for the first time ever, we are expanding the time frame. Our first meeting is in three weeks! Participants used to read four books each month over a four month period, and then vote on their winner in January. Our expanded schedule will allow them to read two books a month instead, which is a more manageable expectation. The other change we made was to bump up the ages participating in the program. In previous years we've offered the group for kids in grades 4-6, but I started to rethink that in 2014. One of the books we read was The Family Romanov and several of our fourth graders were horrified by what had happened to the royal family. This year, we are offering the book group to kids in grades 5-7. Interestingly, as the program will run from February – January of 2017, we will end up with kids in grades 6-8.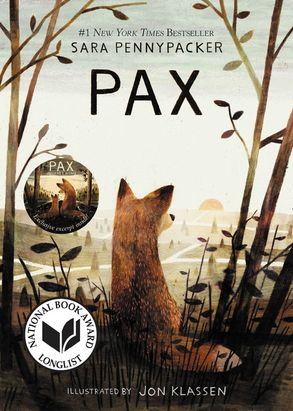 Our new start date does present me with an interesting conundrum. In previous years, I've created our booklist of potential winners in mid-summer. This gives me nearly six months of personal reading, perusing of starred reviews, and preview attendance to base my selections on, not to mention the unending usefulness of blogs like Heavy Medal. This year, I needed to purchase at least our first few months of books with nothing more than my own opinion and Heavy Medal's  extremely early 2017 Reading List to guide me. Our first discussion will take on Sara Pennypacker's Pax and Joan Bauer's Soar.
Which books would you add to a mock-Newbery list in February? I am extremely open to suggestions!