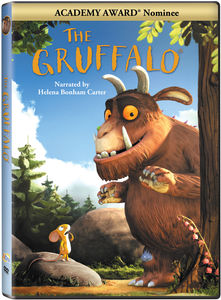 Our Children's Department is trying something new this April for Autism Awareness Month.  As a way to continue our outreach efforts to children with special needs into the library, we will be hosting our first ever inclusive family film program entitled Sensory-Friendly Family Film.
Our idea of a family film program designed especially for children with special needs is modeled after AMC Theatre's own series of  Sensory-Friendly Films.  In partnership with the Autism Society, AMC's Sensory-Friendly Films were first developed in 2007 as recreational opportunities for individuals with autism.  These special movie showings welcome people of all abilities to enjoy their favorite films in a safe and accepting environment.  The theaters themselves offer a different kind of moviegoing experience, with lights that are turned on and sound that is turned down.  Audience members are even invited to move about the room as they please.  As explained by the Autism Society, "Being able to relax and enjoy quality family time without worrying if someone will complain or be disturbed by noise of movement is a wonderful experience. It's a great opportunity for families to meet, siblings of children with autism to get to know other kids, and anyone to enjoy a movie in a climate of acceptance and understanding."  Children with autism spectrum disorder often need a different adaption or a slightly altered environment to feel comfortable.  Sensory-Friendly Films offer that supportive environment.
There were many reasons why we decided to host a Sensory-Friendly Film program at the library.  Our Children's Department has an ongoing series of Sensory Storytime programs for children with special needs, so we already have a core group of families who visit the library to attend these programs.  So, we wanted to build on our first program's success.  We wanted to provide more opportunities for those families to feel comfortable visiting the library in a program that is still as welcoming and inclusive as Sensory Storytime.  Another goal of ours was to develop more programs that are family-oriented and welcoming for parents, caregivers, and siblings.  That way, families are able to make visits to the library together, with everyone able to enjoy the movie experience regardless of their age or ability.  We also wanted to bring attention to our selection of movies that are based on picture books.  There are many production companies, such as Weston Woods, Dreamscape, and Scholastic Storybook Treasures, that create quality audiovisual adaptations of picture book texts.  By showing one of these movies, we hope to bring more awareness to this mini collection of DVDs, while introducing kids with new characters and connecting them with new stories.
Here is a run down of our program details:
Title: Sensory Friendly Family Film–The Gruffalo
Date and Time: Saturday, April 5 at 11 am
Target Audience: Children of all ages and abilities with parent or caregiver
Program Description: Join us for our first sensory-friendly movie showing of "The Gruffalo." The room will be lighter, the volume will be lower, and audience members will be welcome to move around, talk, and sing.  The intended audience is children with special needs accompanied by siblings and caregivers, although everyone is welcome.  Noise cancelling headphones and fidgets will be available to use.  No registration required–just drop in!
Room setup: TV monitor at the front of the room with chairs arranged in auditorium style seating; large aisles and walkways in between rows of chairs and along the edge of the room for accessibility; table arranged at the back of the room displaying copies of The Gruffalo by Julia Donaldson and collection of fidgets and other manipulatives for children to use during the program
Fidgets and manipulatives made available: 4 pairs of noise cancelling headphones; 6 tangle toys;  4 giant sensory tubes; sensory balls; stress balls; puzzles
Here's another quick tip.  If your library wants to host a family movie program, be sure to first acquire the rights to show the movie in your library.  Check out Movie Licensing USA or the Motion Picture Licensing Corporation for more information.
To find out more about the history of Sensory Friendly Films and to learn about the one family who made it all happen, click here.  For a list of participating theaters in your area, check out AMC Theatre's website.  And to learn about more autism-friendly library programming strategies that work, check out the Libraries and Autism website.  Does your library offer Sensory-Friendly Film programming? If so, share your tips and ideas below!