Where were you Sunday evening?  Like millions of movie lovers across the globe, you may have been watching–or tweeting about–the Oscars.  Many people consider the Academy Awards  to be the biggest night in Hollywood.  But if you were like me and tuned into the live webcast of the ALA Youth Media last month, you already had your Oscar night.
Our A-listers aren't movie stars who strut around in Dior Haute Couture gowns and Neil Lane jewels.  Celebrities in our library world are living, breathing authors that have penned our favorite works of fiction and non-fiction.  In our version of the Academy Awards, the most coveted award isn't Best Actor or Best Actress.  Our gold statuettes are gold medals given to the author of the year's most distinguished contributions to literature.  And for children's librarians, the announcement of the Newbery and Caldecott is comparable to the suspense around the announcement of Best Picture.  I'm sure there was a slew of emotions that morning in Seattle…sighs, screams, grumbles, and tears….when This Is Not My Hat by Jon Klassen and The One and Only Ivan by Katherine Applegate were revealed as the big winners.  But alas, we librarians have to wait a few more months until our after-party in Chicago...
The suspense and excitement builds each year until that fateful morning in January.  For many, the big awards are the most exciting.  I myself am always interested in learning about the recipients of one particular award.  It's probably not the one you first think of when you think of Librarian Oscar night.  It might not be as flashy or as glam as some of the others.  But because of the work I do with children with disabilities, this is one of my favorite awards.
The 2013 Schneider Family Book Award was given to three most deserving authors of three particular notable works of fiction.  This award "honors an author or illustrator for the artistic expression of the disability experience for child and adolescent audiences."  Recipients are selected in three categories: younger children (ages 0—8), middle school (ages 9—13) and teens (ages 14—18).  This year, the following contributions to children's literature were awarded the Schneider Family Book Award.
Winner of Younger Children Category: Back to Front and Upside Down by Claire Alexander
"Stan is excited about making a birthday card for his principal, Mr. Slippers, until he discovers that he has to write a message.  For him, letters come out back to front and upside down.  Stan learns that asking for help, a little coaching, and a lot of practice make for success."
Winner of Middle School Category: A Dog Called Homeless by Sarah Lean
"A year after her mother's death, Cally, a fifth grader, has stopped speaking when no one seems to care about what she has to say.  When her family moves to a new apartment, Cally meets 11–year-old, Sam who is deaf and blind.  Through her friendship with Sam and the mysterious appearance of a dog, Cally finds her voice."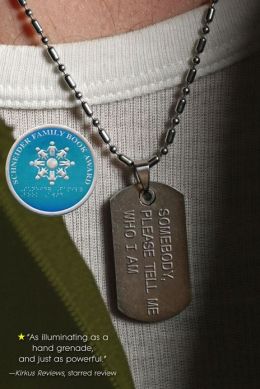 Winner of Teen Category: Somebody, Please Tell me Who I Am by Harry Mazer and Peter Lerangis
"Ben surprises everyone by enlisting in the army after his high school graduation.  When his convoy is caught in an IED explosion, Ben suffers a traumatic brain injury (TBI), resulting in memory loss and other disabilities. His 15-year-old brother Chris, who has autism, becomes a critical catalyst to Ben's recovery"
Thank you to all the Schneider Family Book Award Committee Members for your hard work selecting this year's winners.  Those of us working to serve children with special needs in our library communities recognize the importance of this award and the work that you do.  In fact, if I could give you each a little golden man named Oscar, I totally would.